Der Kriegspielers 25mm Napoleoniques Figures

This is a compilation of the figures from:
They are presented by figure number and catalog (nationality) order.
There was a change in figure packaging between the first and second catalogs, mainly in the cavalry, artillery, and command packages.
Originally, the figures were packaged in bags.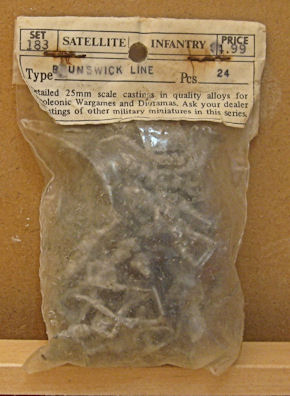 Later, the figures were packaged in blister packs.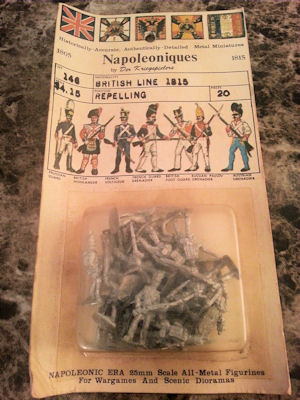 Size and Scale
Poses
Figure pose names are mostly consistent but there a few discrepancies.
Figure Poses (Infantry)

Pose Name
Description and Part Number Examples
Advancing
2 9 17 18
Assaulting
Attacking
Charging
Defending
Engaging
Firing
On Guard
Marching
Preparing to Fire
at Ready
Receiving
Repelling
Part Number Decrepancies
Note: There are some conflicts between the first and second catalogs. The second catalog and the Walthers pages are the most consistent.
Many of the figures are marked on the underside of the base with the part number (PN). Some of these include whether the figure is elite, like "2e".
However, sometimes these PNs appear on two different poses of a figure. And sometimes the same pose of a figure might have two different PNs!
last modified on 08 May 2016